About the company
Bulgarian Rose PLC is a leading Bulgarian producer of essential oils and derivative products, established in 1947.
The headquarters is in town with rich traditions in various kinds of crafts, situated in famous Rose Valley, whose mild climate and altitude are perfect place for cultivation of essential-oily crops. It is optimal precondition for the advance of perfumery and cosmetics on the basis of natural products.
The company is certified according to the international quality standard ISO 9001:2008 ang ISO 22716:2007 (GMP).
Bulgarian Rose PLC is a public company (BSE code: ROZA). Its shares are traded on the Bulgarian Stock Exchange on the Unofficial Market Segment.
The main shareholders of the company are:
Stara Planina Hold PLC 49.99%
Garant-5 JSC 32.94%
Free float 17.06%
Products
NATURAL AROMATIC PRODUCTS
Ethereal oils
Rose oil and Natural waters
Rose oil
Lavender oil
Thyme oil and others
Lavender
Camomile
Melissa
Mentha
Clary Sage water and others
Concretes – rose concrete and others
Absolutes – rose absolute
Natural extracts
PERFUMERY AND COSMETIC PRODUCTS
Facial and Body Creams
Shampoos
Conditioners
Body Lotions
Glycerin Soaps and others
PERFUME COMPOSITIONS used in the:
Perfumery Industry
Cosmetic Industry
Production of Household Cleaning Products
FLAVORS used in the Food Processing Industry
Share price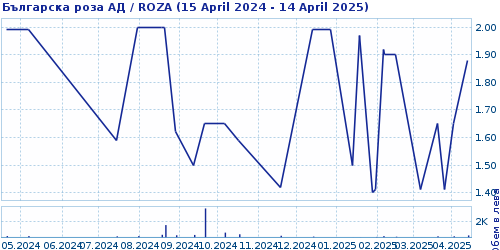 Sales
(BGN million)
* forecast
Contacts
Address
Bulgarska Rosa AD
Industrialna zona
4300 Karlovo
Bulgaria
Bulstat № 115009344
Telephone +359335/93320
Fax +359335/96691
E-mail This email address is being protected from spambots. You need JavaScript enabled to view it.